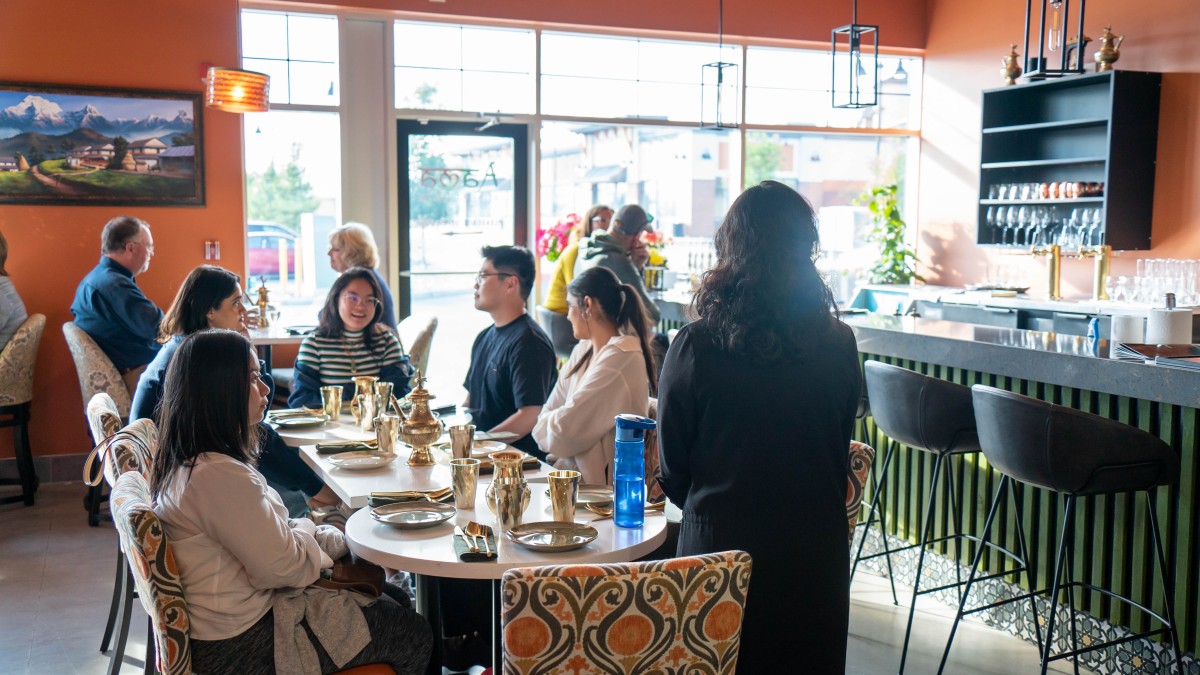 Looking for a new culinary adventure? Then you can't miss Aama Nepalese Cuisine, the Cochrane restaurant that's bringing the unique flavors of Nepal to Alberta. From the moment you walk in, the ambiance transports you to the streets of Nepal, with vibrant colors, traditional artwork, and fragrant spices filling the air. Here are just a few reasons why you won't want to miss out on this hidden gem.
The Momo Affair
For those who haven't tried them, momos are a must-try Nepalese delicacy. These delectable dumplings are filled with savory meats or vegetables and steamed to perfection. Aama Nepalese Cuisine makes their momos fresh daily and offers a variety of fillings to choose from, including chicken, pork, goat, vegetable, and more. You can also try their Jhol Momos, served with Aama's traditional momo sauce, or their Tandoori Momos, which are deep-fried and smoked with tandoori masala coating. For something with a bit of a kick, give the Chili Momo a try, deep-fried and tossed in wok veggies and house-made chili sauce. But the momos are just the beginning. Aama Nepalese Cuisine serves up a range of other delicious Nepalese dishes, such as thukpa, a hearty noodle soup, and Nepali thali, a platter that includes buttered basmati rice, tempered lentils, seasonal vegetable curry, pickle, and yoghurt. Whether you're a vegetarian or a meat lover, there's something for everyone on the menu.
Yak-tastic
One of the unique ingredients you'll find at Aama Nepalese Cuisine is yak meat. This lean protein is sourced locally from West Gimlet Farms and adds a delicious, slightly gamey flavor to many of the dishes. One of the most popular dishes featuring yak meat is Sukuti, which is a house-dry aged meat that's served with chili, roasted soyabean pickle, and flaked rice. It's a flavorful and hearty dish that's perfect for meat lovers. Another must-try dish is the Yak momos, which come in varieties like Steamed, Jhol, Tandoori, and Chilli. These delicate dumplings are filled with yak meat and spices and are a staple of Nepalese cuisine. Whether you're a fan of meat or just looking to try something new, the yak dishes at Aama Nepalese Cuisine are not to be missed.
Farm-to-Table Freshness
At Aama Nepalese Cuisine, freshness is a top priority. The restaurant sources many of its ingredients from local partners like Micro YYC and West Gimlet Farms, who are committed to providing only the freshest and highest quality produce. While Micro YYC specializes in microgreens, West Gimlet Farms is the proud provider of the restaurant's yak meat. West Gimlet Farms' yaks are raised in a humane and sustainable way, and the meat is sourced locally, ensuring that every dish is not only delicious but also ethical and environmentally responsible. You can taste the difference in every dish, from the vibrant spices to the crisp vegetables and the succulent yak meat.
Sip in Style
No meal is complete without a refreshing beverage. Luckily, Aama Nepalese Cuisine has you covered with a fully stocked bar. Enjoy a cold beer, a glass of wine, or one of the restaurant's signature cocktails to complement your meal. For something truly unique, be sure to try Aama's Smoked Old Fashion cocktail. Made with Maker's Mark Bourbon, Jimbu Syrup, and Angostura Bitters, this cocktail is not your average Old Fashioned. The Jimbu Syrup adds a distinct flavor to the cocktail, which is then smoked with applewood chips to give it a unique and irresistible smoky flavor. It's the perfect complement to the bold flavors of Nepalese cuisine.
Al Fresco Dining
Immerse yourself in the vibrant and diverse flavors of Nepal while enjoying the sun-kissed outdoor patio at Aama Nepalese Cuisine. The elegant ambiance, impeccable service, and stunning views will take your breath away. Whether you're in the mood for some tantalizing momos, a hearty Nepali Thali, or some exquisite yak meat, this patio offers an array of culinary delights that are sure to impress. So, sit back, relax, and let the magic of Nepal unfold before your eyes.
Coffee Connoisseurs Rejoice
For those who appreciate a good brew….you won't want to miss Aama Nepalese Cuisine' Nepalese coffee. This smooth and rich coffee is made from beans grown in the Himalayan foothills and has a unique flavor profile that sets it apart from other varieties. For something extra special, try the Himalayan Spiced Tea, which is made with black tea, milk, butter, and a blend of warming spices like cardamom, cinnamon, and ginger. It's a rich and satisfying drink that's perfect for a cold day. But that's not all. Aama Nepalese Cuisine also offers a signature coffee cocktail called "In Cochrane for Cochrane". This drink is made with double espresso, plum and prune brandy, and whipped cream. It's a decadent treat that's perfect for dessert or an after-dinner drink. Whether you're a coffee purist or a fan of more adventurous drinks, Aama Nepalese Cuisine has something for everyone.
Undoubtedly, Aama Nepalese Cuisine is a must-visit restaurant in Cochrane for anyone looking to experience the flavors and culture of Nepal. The attention to detail and commitment to using fresh, local ingredients make for a truly unique and memorable dining experience. The atmosphere is welcoming and the staff is friendly and knowledgeable, making for a perfect dining experience. So, next time you're in Cochrane, Alberta, be sure to stop by!