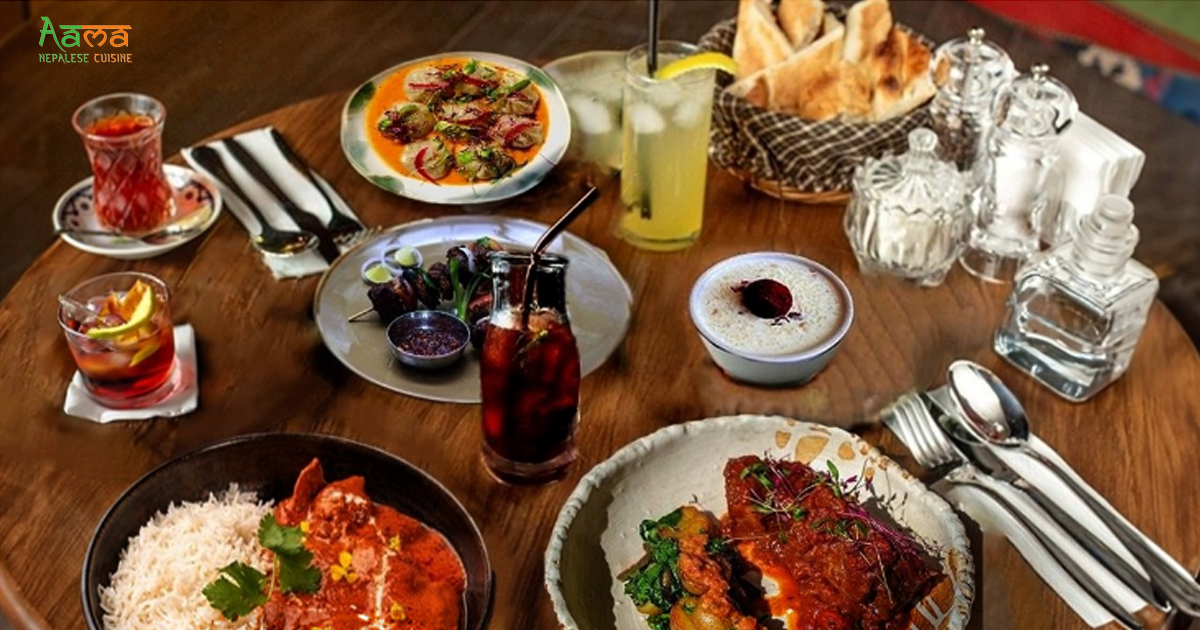 Step into Aama Nepalese Cuisine in Cochrane, Alberta, where we seamlessly blend authentic Nepalese cuisine with innovative cocktails, creating a remarkable dining experience. Our meticulously crafted menus offer delightful combinations that will leave your taste buds craving more. Traditional flavors seamlessly intertwine with contemporary mixology, captivating you with harmonious tastes. Indulge in enticing aromas and exquisite dishes that showcase the best of Nepalese cuisine. Join us for an unforgettable culinary journey.
Here, we present some carefully crafted pairings of our signature drinks with flavorful dishes from the best Nepali Restaurant in Cochrane. Don't miss out on these delectable combinations.
Pair Aama's Smoked Old Fashion with the lip-smacking Leg of Lamb
This rich and smoky cocktail finds its perfect partner in the tender and succulent Leg of Lamb. The bold notes of the Smoked Old Fashion harmonize with the lamb, creating a balanced and unforgettable dining experience.
With a comforting bowl of Chicken Thukpa, try From Bow to the Blue Foothills
The aromatic Nepali noodle soup, generously filled with shredded vegetables, mushrooms, and broccoli, finds harmony in the refreshing flavors of the cocktail. The citrusy tang of the drink elevates the flavors of the Thukpa, taking the soup to new heights of delight.
Savor the fragrant and flavorsome Tofu Fried Rice, accompanied by Timmur – Saskatoon Mule.
As you enjoy the fragrant and flavorsome fried rice, the Timmur – Saskatoon Mule adds a delightful kick of zesty freshness. The combination creates a symphony of flavors, striking a balance between the aromatic herbs and spices of the dish and the rejuvenating elements of the cocktail.
Experience the mouth-watering Shyakpa with Abode of Snow.
The hearty yak meat stew resonates with the intricate flavors of the Abode of Snow. The cocktail's blend of tea-infused rum and citrusy undertones harmonizes with the robustness of the stew, transporting you to the Himalayan mountains with every bite and sip.
For a delightful pairing, try the delectable Yak Sukuti with Mr. & Mrs. Negroni.
The tender and flavorsome yak meat, marinated and dried to perfection, forms a delightful partnership with the intricate layers of the Negroni. The cocktail's botanical undertones and the smoky essence of the sukuti create a symphony of flavors on the palate, leaving a lasting impression.
But wait, the delights at Aama do not end there. Here are some must-try dishes you wouldn't want to miss on your next visit to Aama Nepalese Cuisine for some delicious traditional Nepalese food.
Start with the Aama special "Roast Eggplant" and treat your taste buds to an extraordinary delight. Experience the smoky allure of roasted eggplant, perfectly paired with creamy avocado and aromatic Aama spiced tomato sauce. This harmonious fusion of textures and flavors will transport you to culinary bliss. Served with delectable flatbread, this dish is a true masterpiece for your palate.
Next, indulge in the indulgent decadence of AAMA's Butter Chicken, where velvety richness takes center stage. Our classic Nepalese dish showcases tender chicken immersed in a flavorful, creamy tomato-based sauce. Served alongside your choice of fragrant buttered rice or naan bread, this culinary masterpiece will leave you yearning for another savory bite. Get ready to satisfy your cravings and savor the irresistible allure of Butter Chicken at AAMA.
Save room for dessert and indulge in the comforting sweetness of Aama's Kheer, a traditional rice pudding that will tantalize your taste buds. Expertly crafted with aromatic spices, and a touch of irresistible sweetness, each spoonful offers a perfect harmony of creamy texture and delightful flavors that will transport you to a place of pure culinary bliss. Treat yourself to this exquisite dessert and let the comforting sensation of Kheer envelop your senses at Aama.
For a captivating dessert experience, dive into the world of indulgence with Aama's Coconut Rasmalai, a classic dessert that will captivate your taste buds. Delight in the soft, spongy cottage cheese dumplings delicately soaked in a sweet and creamy coconut milk sauce. Each bite transports you to a desert paradise, where the flavors intertwine to create a truly divine experience. Surrender to the allure of Coconut Rasmalai and let its decadent essence envelop your senses at Aama.
No Nepalese experience is truly complete without a steaming cup of Himalayan Spiced Tea with Butter. This comforting and aromatic beverage is a soul-soothing delight that pairs flawlessly with the flavors of Nepalese cuisine. Let the warmth of our Himalayan Spiced Tea, enhanced with a touch of butter, envelop your senses and complete your culinary journey. At Aama, we invite you to savor this essential drink that embodies the true essence of Nepalese culture.
At Aama Nepalese Cuisine, our carefully curated drink and dish pairings offer a captivating journey through the exquisite flavors of Nepal. With finesse, each pairing complements one another, creating an unrivaled culinary experience. From the robust Leg of Lamb to the refreshing Thukpa, the vibrant Fried Rice, the Himalayan delight of Shyakpa, and the elegant Sukuti, our pairings redefine culinary excellence. Indulge your senses and experience the authentic tastes and aromas that will whisk you away to the vibrant land of Nepal. Embark on a sensory journey that transports you to the enchanting flavors of traditional Nepalese food right here at Aama Nepalese Cuisine in Cochrane.