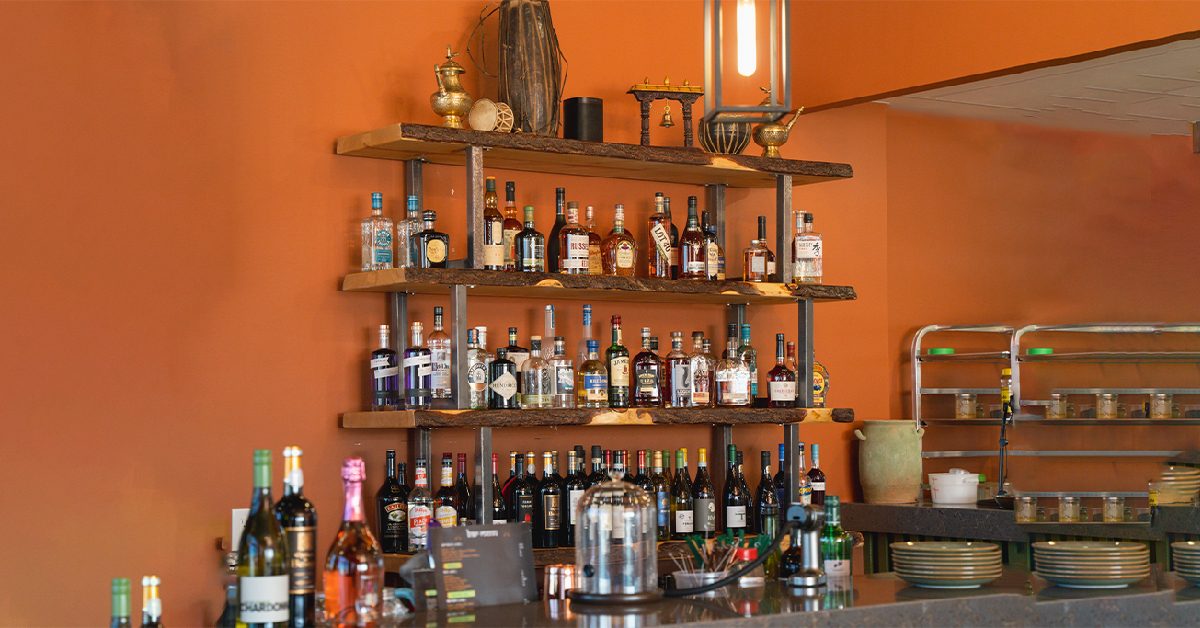 Imagine this: You step through the doors of Aama Nepalese Cuisine, leaving the bustling streets of Cochrane behind. As you enter, a hushed ambiance envelops you, a sanctuary of extraordinary indulgence awaiting your arrival. Your senses awaken as enticing aromas waft through the air, mingling with the soft glow of ambient lighting that casts an enchanting spell. It is within this refined haven that we invite you to embark on a journey that transcends the ordinary, where your palate is captivated and your senses are entranced. Prepare to be captivated by our thoughtfully curated bar menu, a hidden gem that beckons with an air of sophistication and intrigue, promising an experience that will transport you to a realm of extraordinary indulgence.
Allow us to introduce you to the crown jewels of our bar menu: our signature cocktails.
Aama's Smoked Old Fashion
Indulge in the rich and smoky notes of Aama's Smoked Old Fashion cocktail, a unique twist on a classic favorite. Made with Maker's Mark Bourbon, Jimbu Syrup, and Angostura Bitters, this expertly crafted drink offers a delightful combination of flavors. The subtle smokiness of the bourbon, infused with the aromatic Jimbu Syrup, creates a depth of flavor that pairs perfectly with our Nepalese dishes. Sip on this sophisticated cocktail and let it transport you to a world of indulgence.
From Bow to the Blue Foothills
Escape to the picturesque landscapes of Nepal with From Bow to the Blue Foothills cocktail. This vibrant and refreshing drink combines Tequila, Lime Juice, Blue Curacao, Ginger syrup, and Simple Syrup. The tropical flavors of the blue curacao and lime juice are beautifully balanced by the subtle heat of the ginger syrup. The result is a cocktail that not only quenches your thirst but also invigorates your senses. Whether you're dining with us or simply looking for a refreshing libation, From Bow to the Blue Foothills is sure to transport you to a tropical paradise.
Timmur – Saskatoon Mule
Prepare your taste buds for a delightful fusion of flavors with Timmur – Saskatoon Mule. This invigorating cocktail features Eau Claire Gin, Timmur – Saskatoon Berry syrup, Fresh lime juice, and Fever Tree Ginger beer. The unique combination of fruity Saskatoon berries, zesty lime, and the botanicals of the gin creates a refreshing and balanced drink. The addition of Fever Tree Ginger beer adds a hint of spiciness, making it a perfect companion for our Nepalese cuisine. Let the Timmur – Saskatoon Mule whisk you away to a world of flavor.
Abode of Snow
Embark on a sensory adventure with the Abode of Snow cocktail. This enchanting creation combines Appleton Estate 12y, Himalayan tea syrup, Lime Juice, Chocolate bitters, and a velvety Lemongrass foam. The blend of rich rum, the subtle bitterness of Himalayan tea syrup, and the citrusy notes of lime juice create a harmonious medley of flavors. Topped with a decadent lemongrass foam, this cocktail offers a truly unique and luxurious experience. Immerse yourself in the Abode of Snow and let it transport you to the mystical peaks of the Himalayas.
Mr. & Mrs. Negroni
For the gin enthusiasts, we present the Mr. & Mrs. Negroni. This modern interpretation of a classic cocktail features Empress 1908 Gin, Luxardo Bitter Bianco, Dry Vermouth, and a delicate Grapefruit mist. The Empress 1908 Gin, infused with butterfly pea blossom, gives the cocktail its distinctive hue and adds a floral undertone to the bitter-sweet symphony of flavors. Served with a delicate grapefruit mist, this cocktail offers a refreshing and refined drinking experience. Let the Mr. & Mrs. Negroni elevate your evening with its timeless elegance.
Our expert mixologists have carefully curated this bar menu to complement the rich and diverse flavors of Nepalese cuisine. Whether you're looking to unwind after a long day or enhance your dining experience, our signature cocktails are sure to impress.
Join us at Aama Nepalese Cuisine, one of the best restaurants in Cochrane, Calgary, and embark on a gastronomic adventure like no other. Sip and savor our thoughtfully curated bar menu at our restaurant in Cochrane, and let the flavors transport you to the vibrant and culturally rich land of Nepal.
Note: Our bar menu also includes a selection of fine wines, craft beers, and non-alcoholic beverages to cater to every preference. Experience the best restaurant in Cochrane by visiting Aama Nepalese Cuisine today.